AzMT's Wellness Mission is to support and empower members and their families' healthy lifestyle by providing evidence-based programming.
The wellness program provides resources that are of value to the individuals it serves so they can thrive in daily life.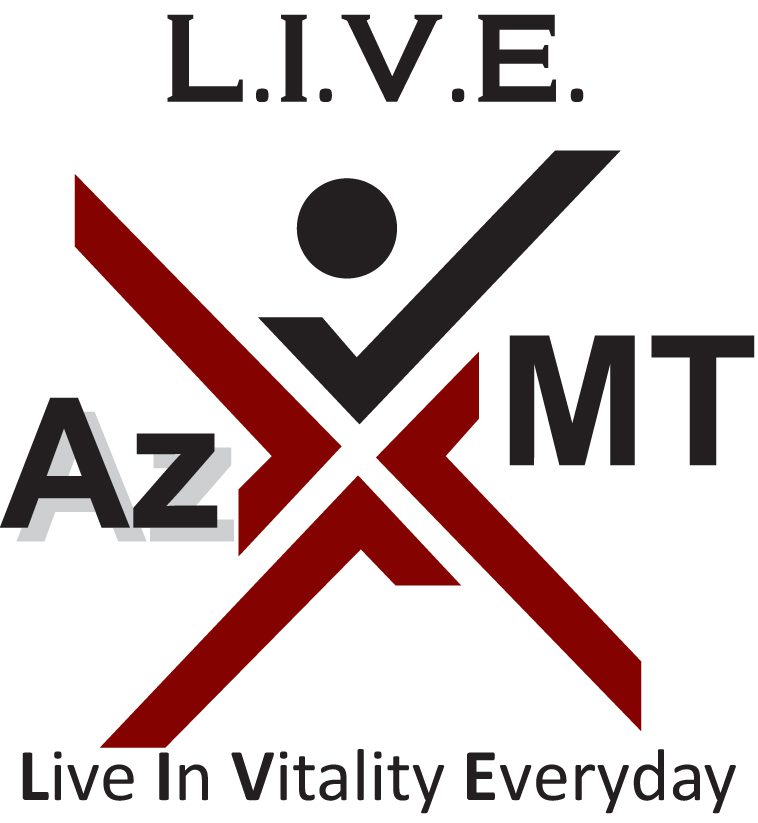 Stay Informed Preventive Screenings
Preventive screenings are brought onsite annually to provide members a convenient way to protect their health and detect abnormalities in early stages.
The onsite screenings are covered at 100% for eligible AzMT medical plan members, including spouses and dependents.
The Health Risk Assessment is provided annually to help members understand their current health status and risk factors. The screening measures include:
Height & weight;
Body Mass Index;
Waist circumference;
Blood pressure;
Fasting blood glucose; and
Complete lipid profile.
Participants may choose the following add-ons, if eligibility criteria is met.
Hemoglobin A1C: Recommended for individuals who have been diagnosed with diabetes or are at an increased risk of developing diabetes.
Prostate Specific Antigen (PSA): Recommended for men ages 40 and older.
Colorectal Screening Kit: Recommended for ages 50 and older.
Each participant is provided with a report highlighting their current health status, top risk factors and relevant health education.
Health consultations are available following the Health Risk Assessment. Members have an opportunity to meet with a nurse to:
Review HRA Screening results;
Set realistic, personalized health goals; and
Get knowledge and resources to achieve better health.
Skin Cancer Screenings are available for AzMT members age 18 and older.
Dependents younger than 18 may participate only if there is a new or changing lesion and are accompanied by a parent or legal guardian.
The comprehensive screening can detect abnormalities including, but not limited to:
Actinic Keratosis (pre-cancerous, superficial sun damaged areas of skin);
Basal Cell Carcinoma;
Squamous Cell Carcinoma; and
Malignant Melanoma.
 Liquid Nitrogen Treatment is available at the time of screening to remove potentially harmful lesions as recommended by Assured Imaging. Liquid Nitrogen Treatment is NOT covered as a preventive service and is billed to your insurance as a claim.
The Cardiac and Organ Screening is recommended for adults 35 and older, but is available and covered at 100% for members of all ages
The Cardiac Screening tests for the following:
Carotid Artery, looking for potential risks and blockage associated with Stroke;
Peripheral Arteries, looking for Peripheral Arterial Disease (PAD), which reduces blood flow; and
Abdominal Aorta, looking for Abdominal Aortic Aneurysms (AAA) by showing ruptures or bleeding from the body's main supplier of blood.
The Organ Screening tests look for abnormalities including nodules, cysts or changes in structure by conducting ultrasounds of the following organs:
Kidneys;
Liver;
Gallbladder; and
Thyroid.
Routine mammography screenings are offered onsite in a mobile unit.
Women ages 40 and older: Mammogram Screenings are covered at 100% per Health Care Reform.
Women ages 35-39: AzMT covers one preventive baseline mammogram.
Women ages 35 and younger: May participate with a physician's order if they are considered at high risk for breast cancer, such as those who are BRCA positive or have a family history in first and second degree relatives
3D Mammography requires a $20 copayment at the time of the screening.
Quadrivalent flu vaccinations protect against 4 different strains of the flu and are available for plan members ages 4 and older.
Pneumonia vaccinations are recommended for:
Adults 65 and older.
Adults 19-64 with certain risk factors, including:
Asthma;
Diabetes;
History of smoking; and/or
Heart, lung, or kidney disease
AzMT offers programs to address current health risks and prevent chronic conditions.
Omada is a personalized, digital lifestyle change program that can help you lose weight, feel fantastic, and develop long-term healthy habits.
The core program is 16 weeks and the maintenance phase is ongoing. Members in the program receive:
An interactive program to guide your journey.
A wireless smart scale to monitor your progress.
Weekly online lessons to empower you.
A professional Omada health coach to keep you on track.
A small online group of participants to keep you engaged.
To learn more or to apply, visit omadahealth.com/azmt.
Space in the program is limited and is awarded on a first-come, first-serve basis. If the program is full, add your name to the waitlist and you will be notified when you are enrolled.
Livongo is a personalized diabetes management program that combines advanced technology with coaching to support members in managing their diabetes.
The program includes:
More Than a Standard Meter: The Livongo meter is connected and provides realtime tips and automatically uploads your blood glucose readings, making log books a thing of the past.
Unlimited Strips and Lancets: Get unlimited strips and lancets with no hidden costs. When you are about to run out, Livongo ships more supplies, right to your door.
Coaching Anytime and Anywhere: The Livongo coaches are Certified Diabetes Educators who are available anytime via phone, text, and mobile app to give you guidance on your nutrition and lifestyle questions.
To learn more or to apply, visit join.livongo.com/azmt.
Space in the program is limited and is awarded on a first-come, first-serve basis. If the program is full, add your name to the waitlist and you will be notified when you are enrolled.
Physical activity level is a key health indicator and AzMT understands the importance of integrating healthy habits to maintain and improve optimal health. In order to support physical activity efforts and nudge members towards more consistent and positive behavior, AzMT hosts engaging activity challenges through the MoveSpring platform to make fitness fun for everyone. In addition to the AzMT hosted challenges, members can also add friends and create their own challenges.
To join the platform download the MoveSpring app or go to MoveSpring.com and register as a new user with the organization code: azmt.
The platform is available for free to employees and spouses covered under the AzMT medical plan.
Stay up to date on AzMT Wellness by opting in to receive text message notifications and subscribe to the monthly newsletter!
To opt in to receive text message notifications, text the keyword azmtwellness to (844) 539-1233!